FAB, Magnati Strengthen Digital Foothold in KSA through Strategic Alliance with Geidea
UAE Dubai, 25 August 2023 – First Abu Dhabi Bank (FAB) and Magnati have joined forces in a strategic alliance with Geidea, Saudi Arabia's largest fintech company, to provide digital payment acceptance services for KSA businesses. The collaboration has the potential to be transformative in the Saudi payments space and is set to create exceptional value for clients, bridging the gap between advanced financial solutions and accessibility, while ensuring enhanced affordability.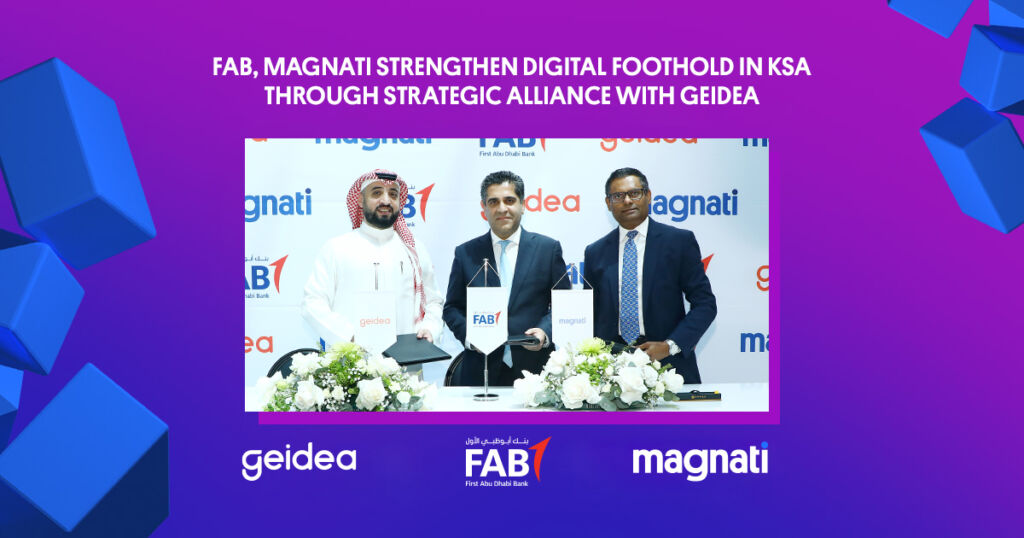 FAB is the UAE's largest bank and one of the world's largest and safest financial institutions, also operating as a licensed full-service bank in the Saudi market since 2019, while Magnati is a pioneering company specialising in digital payment solutions. With a focus on innovation and technology, Magnati offers Payment as a Platform services that cater to a wide range of industries and businesses, encompassing integrated payment solutions, secure transaction processing, and comprehensive e-commerce solutions.
In a world where fintech transcends geographical boundaries, the strategic alliance between FAB, Magnati, and Geidea becomes crucial in offering inclusive access to cutting-edge financial services and solutions.
Ramana Kumar, CEO of Magnati, stated, "Our collaboration with Geidea is a testament to our commitment to serving our clients' expansion goals in KSA. Together, we aim to revolutionise the payment landscape by introducing innovative solutions, seamless integrations, and unparalleled customer experiences. Leveraging Geidea's innovation and Magnati's fintech expertise, we are poised to unlock the full potential of digital payments."
Sanjay Sethi, Head of Global Transaction Banking at FAB, emphasised, "This strategic alliance enables us to extend our reach, drive innovation, and provide tailored payment solutions aligned with the evolving needs of businesses across industries. We are not only dedicated to delivering exceptional value to businesses and merchants, but also contributing to Saudi Vision 2030's aspiration to achieve 70 per cent digital payments by 2025."
In a landmark achievement, electronic payments have overtaken cash as the most prevalent payment method in KSA, as confirmed by the Saudi Central Bank in 2021. Geidea, a recognised leader in the fintech sector and listed among the top 25 fintech companies in the Middle East by Forbes, has further catalysed this transformation. Geidea has achieved the distinction of becoming the first non-bank entity in the Kingdom to obtain an acquiring licence from the Saudi Central Bank (SAMA), directly providing financial services to merchants and small and medium enterprises.
Abdullah Alshowier, Chief Business Officer at Geidea, remarked, "Geidea is elated to partake in this strategic alliance with First Abu Dhabi Bank and Magnati to support clients in KSA. This collaboration will empower merchants with Geidea's state-of-the-art payment solutions, seamlessly accepting a wide spectrum of digital payments through a unified platform. We are enthusiastic about collaborating with FAB and Magnati to drive innovation, amplify services, and extend our collective presence in the GCC region."
For more information about FAB, Magnati, and Geidea, please visit their respective websites:
-END-
About First Abu Dhabi Bank (FAB):
FAB is the UAE's largest bank with an international network that spans five continents, providing global relationships, expertise and financial strength to support local, regional and international businesses seeking to do business at home and abroad. FAB is consistently ranked one of the world's largest, safest and most socially responsible banks. A global bank and regional banking powerhouse, FAB is established in 20 markets from the Americas to Asia, and is known for consistently delivering results, generating returns and creating value.

FAB is proactively shaping the future with purposeful action for sustainable growth.  With total assets of AED 1.1 Trillion (USD 312 Billion) as of June-end 2023, FAB is rated Aa3/AA-/AA- by Moody's, S&P and Fitch, respectively – the strongest combined ratings of any bank in the MENA region. FAB was named the UAE's most valuable banking brand in the 2023 Brand Finance UAE 50 and Brand Finance Banking 500 rankings. The Bank has been ranked by Global Finance as the Safest Bank in the UAE and the Middle East since 2011, and #31 Safest Bank globally in 2022. The Banker's Top 1000 World Banks 2022 rankings, measured by Tier 1 capital, ranked FAB as #2 in the UAE, #5 in the Middle East and #90 across the globe. FAB is also a regional sustainability leader (MSCI ESG rating of 'A'), and a constituent of MSCI ESG Leaders and FTSE4Good EM indices.

For further information, visit: bankfab.com.


About Magnati:
Magnati is a regional leader in the payment solutions industry focused on direct acquiring, issuer processing and acquiring processing.
Magnati provides government, merchant and institutional clients with an intelligent payments platform that monetises data, using next generation technology to deliver improved experiences and increased efficiency. The

Magnati brand is charged with energy and potential and is set to transform payments into possibilities.
Headquartered in Abu Dhabi, Magnati's expertise and relationships provide a platform for Magnati to attract international partners, while setting a new standard for innovation and delivery in the payments industry.
Visit magnati.com for more information.
About Geidea:
Geidea is a leading fintech payment service provider offering digital banking technology, smart payment terminals and business management solutions for SME's in retail and digital commerce, currently serving over 150,000+ merchants worldwide. Founded in Saudi Arabia, the company is expanding rapidly across the region with operations in UAE and Egypt, serving both financial institutions and small and medium businesses. Founded in 2008 by Saudi entrepreneur Abdullah Faisal Al-Othman. 
Geidea believes that the latest payments and commerce technology should be accessible, affordable, and intuitive for everyone. The company continues to focus on its mission of empowering merchants with the tools to start, manage and grow their businesses, which is at the heart of what Geidea does. Geidea has become the first non-bank entity in the Kingdom to obtain an acquiring license from the Saudi Central Bank "SAMA" to provide financial services directly to merchants and small and medium enterprises.  
Geidea has also received official certification as a Great Place to Work® (GPTW®) in all its operating regions including KSA, UAE, Egypt and India. In 2022, Geidea collaborated with TWO, a global authority on workplace culture, to foster a high-trust environment. In a recent study, 74% of Geidea's employees' headcount affirmed their satisfaction with their workplace. 
Geidea now has more than 2000 employees across all offices, with over 150,000 merchants, and provides more than 700,000 terminals within the Kingdom with a 75 percent market share. The company is proud to say that it is the biggest fintech company in Saudi and is ranked one of the top 25 fintech companies in the Middle East by Forbes. 
For more information, visit us at geidea.net/ae/en/