Redefining the Fintech Landscape:
Ramana Kumar A Crowned Visionary Fintech Leader of the Year.
In the dynamic and ever-evolving landscape of the Middle East and North Africa (MENA) region, fintech leaders continue to push boundaries and shape the future of finance. Their visionary leadership and innovative solutions have become catalysts for progress, empowering businesses and individuals alike.
We proudly announce a momentous achievement that shines a spotlight on both a remarkable individual and our organization. Ramana Kumar A, the esteemed CEO of Magnati, has been honored with the prestigious Visionary Fintech Leader of the Year award by Entrepreneur Middle East!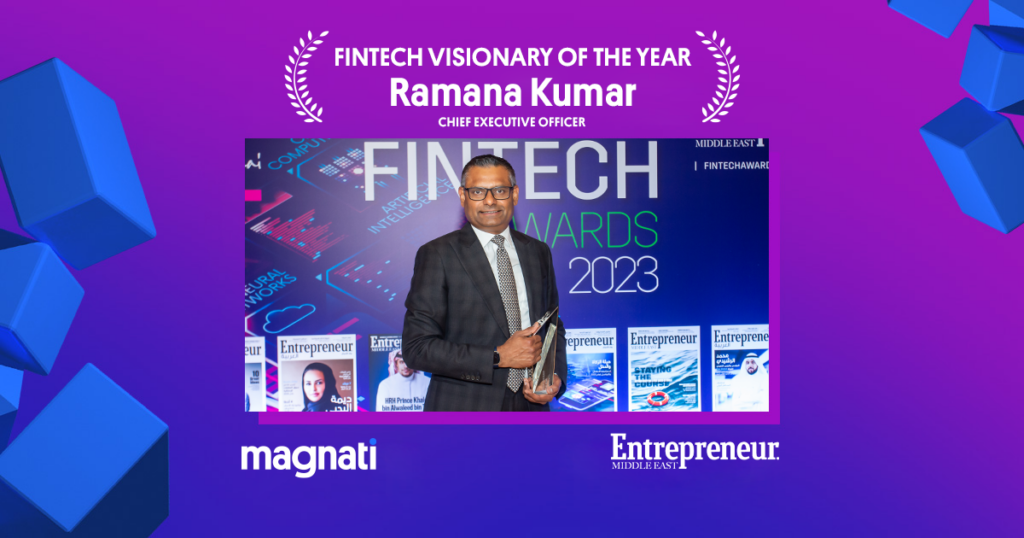 This distinguished accolade not only celebrates Ramana Kumar A's outstanding leadership but also solidifies Magnati's position as a trailblazing provider of payment solutions. It serves as a testament to our unwavering commitment to innovation, excellence, and propelling the boundaries of fintech in the MENA region.
With their relentless pursuit of groundbreaking solutions, fintech leaders in MENA have been instrumental in transforming the way businesses operate and empowering individuals to navigate the digital economy. Among these trailblazers, Ramana Kumar A has emerged as an extraordinary force, leading the charge for change and fostering a culture of innovation.
Under Ramana Kumar A's visionary guidance, Magnati has consistently revolutionized the payment landscape, setting new industry standards and driving unprecedented growth. Through a deep understanding of market dynamics and a passionate commitment to customer-centric solutions, Ramana Kumar A has enabled countless businesses to thrive in a rapidly evolving financial landscape.
The Visionary Fintech Leader of the Year award is a well-deserved recognition of Ramana Kumar A's dedication, vision, and unwavering pursuit of excellence. At Magnati, we are privileged to be a part of this incredible journey, and we are excited about the limitless possibilities that lie ahead.
Join us in celebrating this remarkable achievement and let's raise a toast to Ramana Kumar A's resounding success as the Visionary Fintech Leader of the Year!