RSA partners with Magnati to deliver seamless omni-channel payment experience to insurance customers​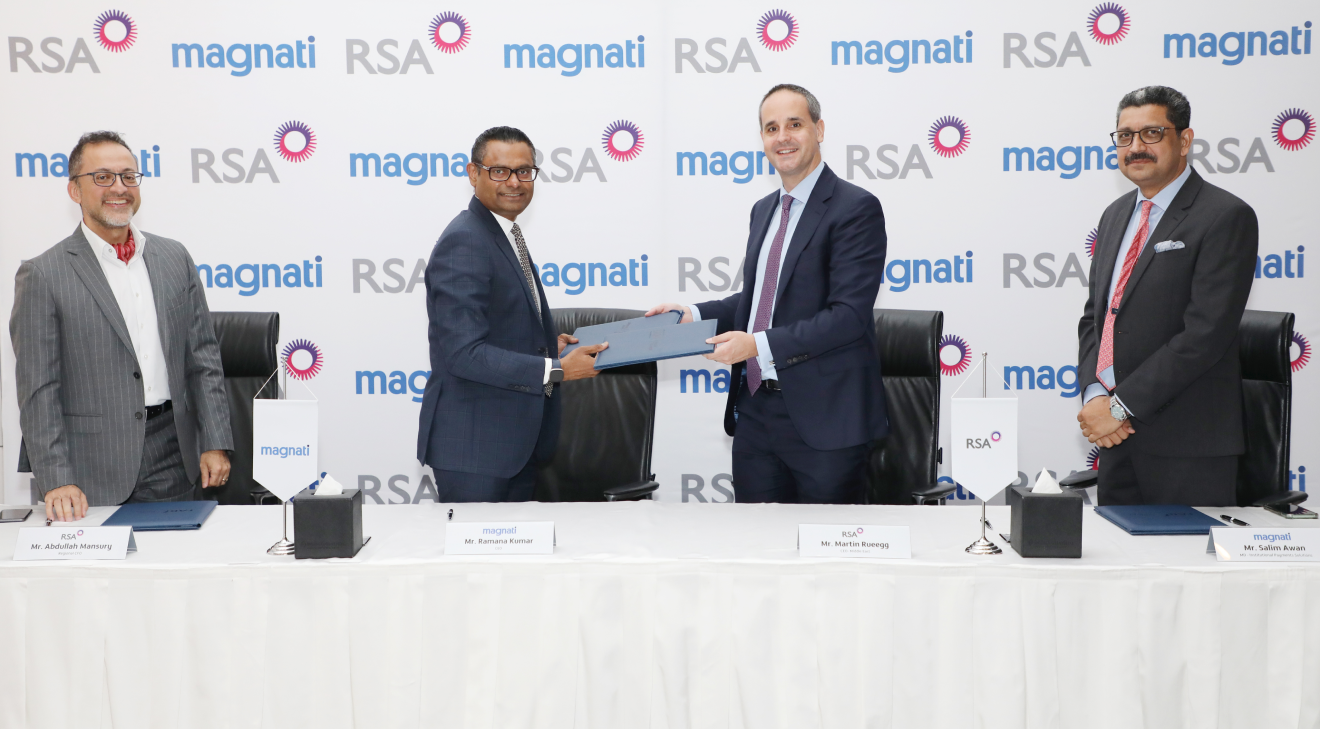 Abu Dhabi, 21 December 2021: RSA, a leading provider of insurance services in the region, has partnered with Magnati, a fully owned subsidiary of First Abu Dhabi Bank (FAB), to support its customers with enhanced omni-channel services for a seamless payment experience.
Magnati will provide RSA with a full suite of payment acceptance solutions for in-store and online channels. RSA customers will benefit from an improved point of sale system, pay-by-link services, increased number of alternative payment methods and interactive voice response payments. These features offer consumers greater convenience within a secure payment experience.
Magnati will also support RSA with web integration for e-commerce, batch processing and business analytics access. Magnati's cutting-edge payment solutions will increase automation, streamline operations and enable RSA to offer its customers personalized insights and a seamless payment journey.
Martin Rueegg, CEO of RSA Insurance Middle East, said "We recognise customers are increasingly shifting towards a cashless way of living, hence we are extremely excited to be collaborating with Magnati. Their specialist infrastructure and next-generation technology ensures that our customers' online payments are handled safely and conveniently. Our customers are always at the heart of what we do and we are excited for them to use this new feature to improve their online buying experience."
Ramana Kumar, Chief Executive Officer of Magnati, said: "Magnati is ushering in the next era of payments by partnering with businesses to provide them the latest in payment technologies. Our partnership with RSA is an example of a collaboration that advances the UAE's payment landscape and cashless vision by enabling a more efficient and secure way to make digital payments."
"Magnati is unlocking additional value for our clients with our best-in-class payment solutions," commented Salim Awan, MD Institutional Payment Solutions of Magnati. "The suite of solutions we're offering RSA will help to improve their operations while empowering RSA customers to insure in a convenient and hassle-free manner across multiple touchpoints."
Magnati is the carve out of FAB's payments business. Focused on direct acquiring, issuer processing and acquiring processing, Magnati provides government, merchant and institutional clients with an intelligent payments platform that monetises data, using next generation technology to deliver improved experiences and increased efficiency. Magnati strengthens the FAB Group's leadership position in the rapidly expanding payments sector and is helping to accelerate its digital transformation agenda.