Ramana Kumar believes that the "metaverse is going to be part of our lives – the question is when?​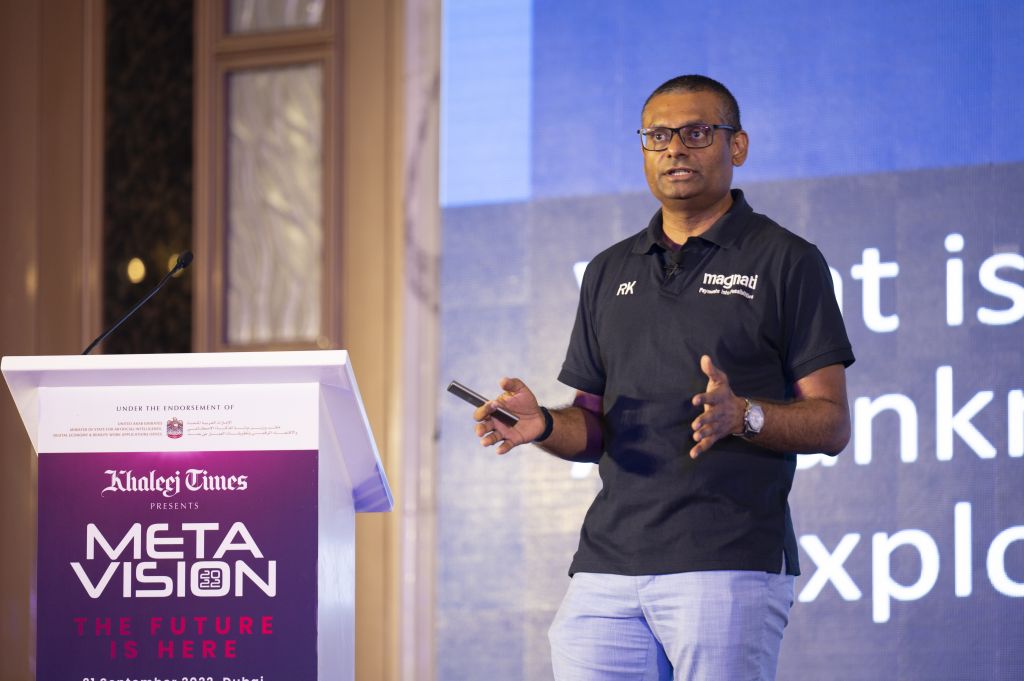 Magnati MetaV seeks to shift consumer behavioral patterns from electronic commerce to experiential commerce. This is the game changer," Ramana Kumar, CEO of Magnati, said at the inaugural edition of metaverse conference Metavision organised by Khaleej Times.
Launched in June, Magnati MetaV is a new virtual marketplace platform that provides users with richer visual and sensory information, as well as improved quality of information to shop, learn, play games, attend concerts and more online.
With Magnati MetaV, brands can co-create virtual stores in a discovery-driven online environment, enabling consumers to see and feel retail offerings through a multi-dimensional experience. The platform built on Magnati's blockchain aims to accelerate the move from two-dimensional to multi-dimensional online commerce by enabling consumers to experience e-commerce in a new, immersive way.
Speaking alongside industry professionals at Metavision, Kumar shared how the metaverse could help to solve common e-commerce challenges: "The metaverse will shape the payments of tomorrow as customers experience what they pay for, creating new revenue opportunities for brick-and-mortar industries." By providing merchants with tools that enable customers to virtually experience a product, Magnati MetaV aims to help retailers reduce sales cancellations, returns and exchanges.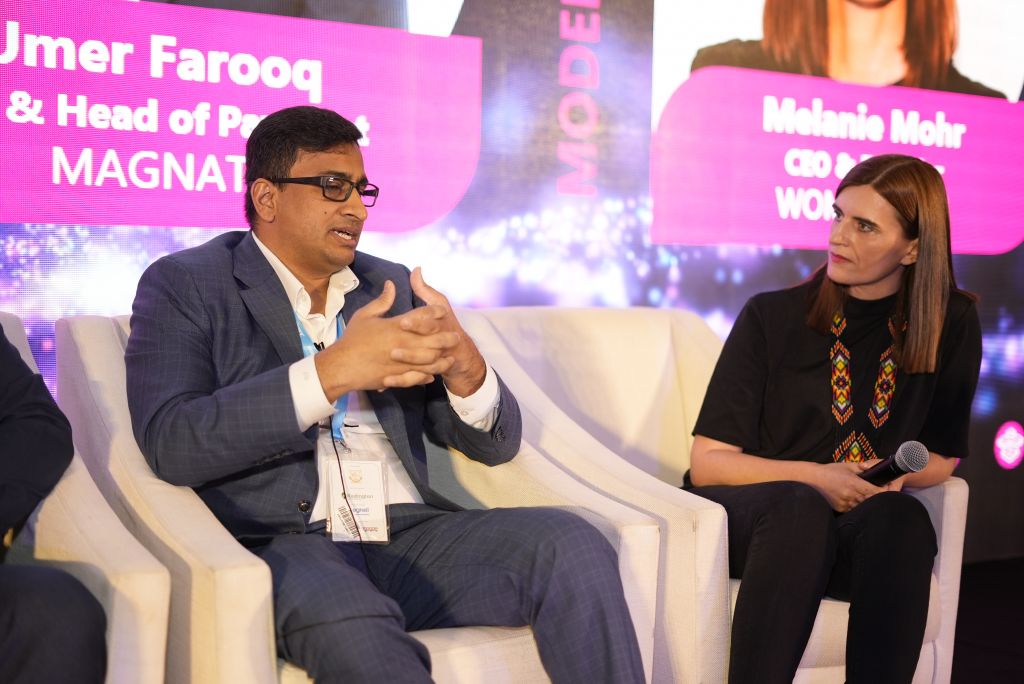 Joining Kumar at the one-day event was Umer Farooq, Managing Director and Head of Payment Platform at Magnati, who spoke in a panel where he championed the use of the metaverse across industries: "We are seeing a lot of the fashion industry in the region and luxury brands coming onto the metaverse. They are very excited about it and we should see a leap in use cases."
Beyond retail, Farooq sees infinite possibilities in new sectors such as gaming, fashion, education and banking. "In the next 12 months, a lot of financial institutions will come into this space, in addition to retailers who are exploring opportunities," shared Farooq.
Metaverse adoption in the UAE is going strong, driven by Dubai's new Metaverse Strategy and robust private sector initiatives. With its endless growth opportunities, the "metaverse is going to be part of our lives," said Kumar. "The question is when?"
To be launched as RAK Pay, the omnichannel platform aims to transform existing payment gateway revenue collection tools by providing an enhanced solution that transforms revenue collection and improves the customer payment journey.
RAK Pay will broaden the number of payment channels and services for users by accepting major card schemes for fee payments. Additionally, FAB and Magnati will provide the RAK Government with their own co-branded prepaid cards to issue users for all government service payments, an initiative that aims to promote cashless payments and encourage unbanked customers to use RAK Pay instead of cash.
The central unified payment platform will enable all RAK government entities to receive payments from their customers in an easy flexible, unified and secure manner. Streamlining revenue collection empowers the government to focus on their core business and improving their services, while allowing for better planning and forecasting of revenues, in a way that aligns with their strategic goals, and RAK Vision 2030.
Yousuf Ali Mohammed, director-general of the Department of Finance, said: "Our partnership with First Abu Dhabi Bank and Magnati is in line with the strategic goals of the government, and the Department of Finance's continuous efforts to enhance the emirate's financial sustainability, while strengthening corporate governance of public revenue management and increasing the economic competitiveness of the digital economy."
"We are focused on the development of digital financial platforms that improve government services in a way that exceeds the expectations of all stakeholders, through leveraging world-class technologies and solutions to improve the digital payments' system, in collaboration with our strategic partners," he said.
Eng. Ahmed bin Saeed Al Sayyah, general manager of Ras Al Khaimah Electronic Government Authority, said: "We are pleased to announce the launch of RAK Pay as an omnichannel, secure digital platform for all government entities within the emirate. It will provide an easy, one-stop solution, whether through Ras Al Khaimah's official online portal or the mRAK app, to ensure a seamless experience for end-users across all our channels".
Ramana Kumar, chief executive officer of Magnati, said: "As a leading payments and technology company, Magnati is excited to partner with the RAK Government to introduce the next era of smart government services that prioritise speed, convenience and security for users. RAK Pay will combine world-class payment infrastructure with best-in-class revenue collection practices to propel RAK to the forefront of the digital age."
Imad Ahmed Abdalwahab, MD and head of Business Development – Government Payment Solutions, said: "At Magnati, we are proud to help our partners and the community unlock the value of the payment function by leveraging cutting-edge technology that makes payments seamless and secure. Our partnership with the RAK Government will enable the emirate's entities and residents to benefit from the convenience and security of digital payments through a more efficient and easier-to-navigate experience, while advancing the RAK Government's digital transformation vision."