Maximizing the Opportunities of Eid-El Fitr: A Practical Guide for Businesses
As the world prepares to celebrate Eid-El Fitr, we remind of the power of unity, compassion, and generosity. This joyous festival marks the end of the holy month of Ramadan, a time of deep spiritual reflection, fasting, and prayer for Muslims worldwide. During this festive season, businesses have a unique opportunity to connect with their customers, build meaningful relationships, and contribute to the spirit of celebration and gratitude that defines Eid-El Fitr.
Welcome to Magnati's guide on how to get your business ready for the upcoming Eid-El Fitr season. This blog will share powerful insights and practical tips to help companies to prepare for the Eid-El Fitr season and make the most of this festive occasion. Let's dive in and get ready to celebrate!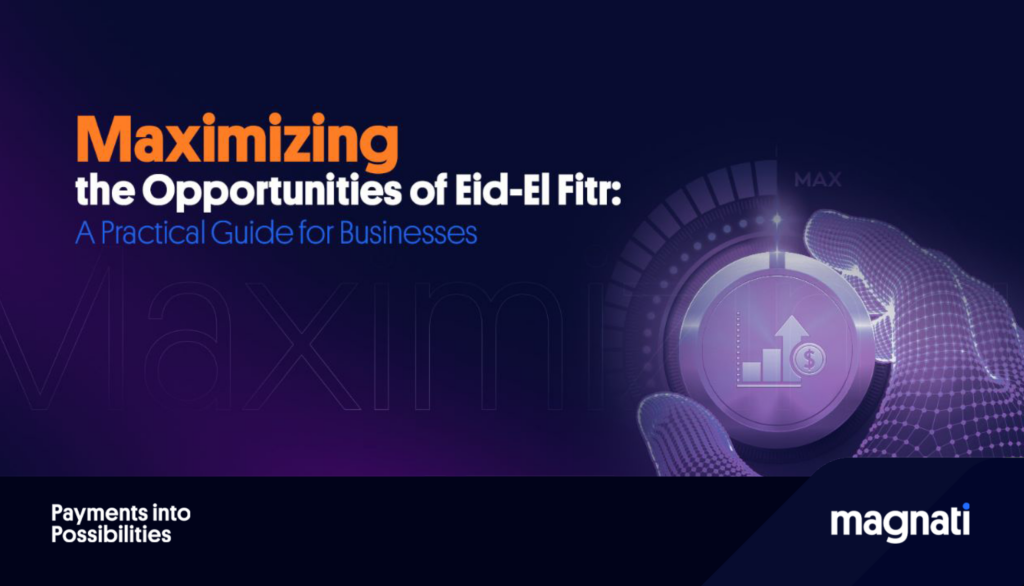 Here are some tips that businesses can follow to make the most of this festive season:
Understand the Significance of Eid-El Fitr and Know your Customers.
Before you start preparing for the Eid-El Fitr season, it's essential to understand the festival's significance. Eid-El Fitr is a time for joy, celebration, and spending time with family and friends. It's also a time when Muslims buy new clothes, gifts, and food to celebrate the end of Ramadan. Some customers may be looking for halal food options, while others may be interested in buying traditional clothes for Eid celebrations. Understanding your customers' specific needs and preferences during the Eid-El Fitr season is essential. The latter will help you offer relevant products and services and tailor your marketing strategies accordingly.
Plan Ahead
Businesses should start planning early to maximize the Eid-El Fitr season. This plan includes forecasting demand, stocking up on inventory, and hiring additional staff if needed. By planning, businesses can ensure that they are well-prepared to handle the surge in sales during the festive season.
Focus on Customer Service.
It's crucial to provide excellent customer service during Eid which includes being responsive to their needs and concerns, offering personalized recommendations, and going the extra mile to make their shopping experience memorable. You can build long-term relationships with your customers and encourage them to return to your business by providing exceptional customer service.
Collaborate with Local Businesses.
Collaborating with local businesses can be a great way to attract customers during the Eid-El Fitr season. For example, you could partner with a halal restaurant to offer food discounts for customers who shop at your store. This collaboration can help you reach a wider audience and build goodwill within the community.
Offer Special Discounts and Promotions.
During the Eid-El Fitr season, businesses can offer special discounts and promotions to attract customers, for example, discounts on clothing, gifts, and food. By offering these discounts, you can show your customers that you value their business and are willing to go the extra mile to make them happy.
Accept Multiple Payment Methods.
Accepting multiple payment methods makes it easier for customers to shop with you, including credit and debit cards, mobile wallets, and online payment systems like Magnati. By accepting various payment methods, you can cater to all your customer's needs and make their shopping experience more convenient.
Ensure Smooth Payment Processing.
During the Eid-El Fitr season, businesses can expect a surge in sales. Ensure smooth payment processing to handle this increased volume of transactions, for example, having a reliable payment gateway, ensuring that transactions are processed quickly, and providing excellent customer support in case of any issues.
Use social media to promote your offerings.
Social media is an excellent tool for businesses to promote their offerings during the Eid-El Fitr season. You can use social media platforms like Facebook, Twitter, and Instagram to showcase your products and services, offer special discounts, and engage with your customers.
Innovative Tips to Help Businesses Stand Out During Eid-El Fitr
Sweeten the Celebration: How Eid Gift Boxes Can Attract Customers
Consider creating special Eid gift boxes filled with festive items such as sweets, chocolates, dates, and small gifts.
Virtual Celebrations, Real Connections: Hosting an Eid Event with Your Customers
With the ongoing pandemic, many businesses opt for virtual events and celebrations. Consider hosting a virtual Eid celebration for your customers, complete with music, food, and fun activities.
Influencing the Celebration: Collaborating with Influencers for Eid-El Fitr
Partner with influencers on social media to promote your products and services during the Eid-El Fitr season.
Personalized Recommendations, Happy Customers: Using Data to Boost Business during Eid-El Fitr
Use data and analytics to offer personalized recommendations to your customers based on their past purchases and preferences.
Savor the Flavor: Creating an Eid-Themed Landing Page
If you own a restaurant or food business, consider creating an Eid-themed menu featuring traditional dishes and desserts. Design an Eid-themed landing page on your website featuring special offers, products, and services for the season.
In conclusion, the Eid-El Fitr season is an important time of year for millions of Muslims worldwide. As a business owner, it is crucial to understand the significance of this festival and how you can prepare to cater to the needs of your customers. At Magnati, with the right strategies and tools, businesses can meet and exceed their customers' expectations during this festive season.
We hope our innovative ideas in this blog have inspired you to take action and prepare for a prosperous Eid-El Fitr season.
With Magnati's secure and user-friendly payment solutions, you can ensure a seamless and hassle-free payment process for your customers, no matter where they are. Our team is here to support you every step of the way and help you achieve your business goals during this festive season.
We hope this article has been helpful and wish you a happy and prosperous Eid-El Fitr season!