Magnati and Sheikh Shakhbout Medical City collaborate to transform healthcare payments in Abu Dhabi
Abu Dhabi, 16 November 2023: Magnati, a leading payments solutions provider in the MENA region, and Sheikh Shakhbout Medical City (SSMC), one of UAE's largest hospitals and a joint-venture partnership between Abu Dhabi Health Services Company (SEHA) and Mayo Clinic, have announced a strategic collaboration to transform healthcare payment methods.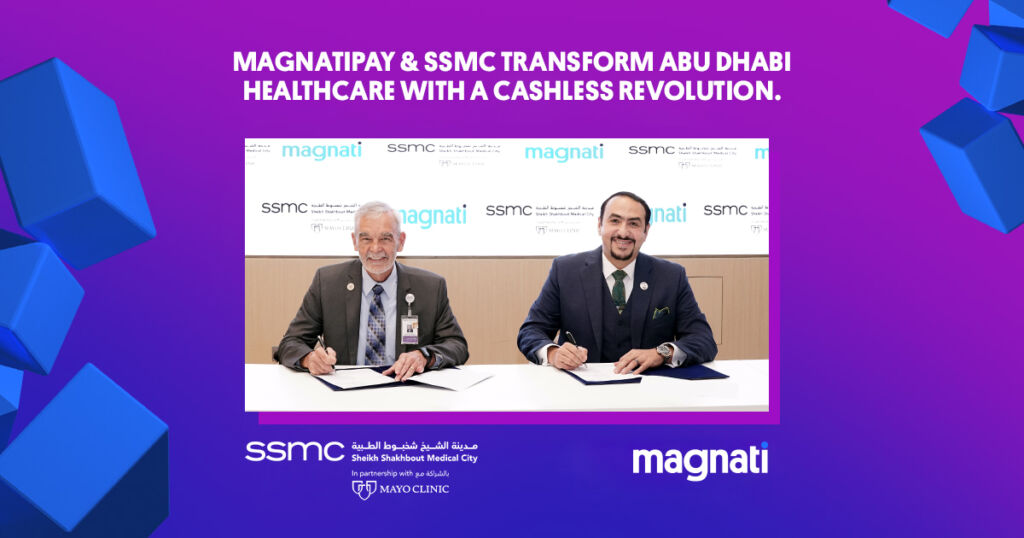 The collaboration will leverage MagnatiPay, a cutting-edge payment platform, to deliver a seamless and secure payment experience to SSMC patients. With a wide range of payment channels at their fingertips, including cards, e-wallets, and user-friendly self-checkout kiosks, patients can now settle their bills quickly and easily without having to worry about carrying cash or checks.
This transformation marks a significant step in the digital payment transformation of the healthcare sector in Abu Dhabi. By streamlining and improving payment processes, Magnati and SSMC are empowering patients with greater flexibility in their payment options. This not only reduces costs for the healthcare system but also contributes to an overall enhanced patient experience, which can boost customer satisfaction and loyalty.
"We are thrilled to unveil a significant milestone in our journey of payments innovation as Magnati collaborates with Sheikh Shakhbout Medical City, a pioneer in healthcare services. The core objective of this collaboration is to spearhead the digital transformation of the healthcare sector by facilitating a convenient payment experience, leading to a better patient journey," said Imad Ahmed Abdalwahab, MD & Head of Business Development – Government Payment Solutions, Magnati, commenting on the collaboration.
"As a transformation-orientated organization, SSMC is committed to adopting state-of-the-art technologies to constantly improve the overall patient journey. Together, with Magnati, SSMC will be facilitating health care payment solutions for patients in Abu Dhabi by harnessing the power of innovation and collaboration," said Carolyn Millward, Chief Financial Officer, SSMC.
About Magnati
Magnati is a regional leader in the payment solutions industry focused on direct acquiring, issuer processing and acquiring processing.
Magnati provides government, merchant, and institutional clients with an intelligent payments' platform, using next generation technology to deliver improved experiences and increased efficiency. The Magnati brand is charged with energy and potential and is set to transform payments into possibilities.
Headquartered in Abu Dhabi, Magnati's expertise and relationships provide a platform for Magnati to attract international partners, while setting a new standard for innovation and delivery in the payments industry.
Visit www.magnati.com for more information.