Magnati and Alipay+ collaborates to unlock benefits for wallet users and Merchants
Connecting the region's merchants to over 1.4 billion Alipay+ partner e-wallet users via Magnati's terminals
Abu Dhabi, 26 October 2023 – Magnati, a regional leader in the payment solution industry in the MENA region, is partnering with Alipay+, provider of global cross-border digital payment and marketing solutions, to elevate the payments landscape in the region. This collaborative effort promises to deliver integrated, seamless and secure payments processing experience, benefiting both merchants and vast consumers behind Alipay+ partner wallets.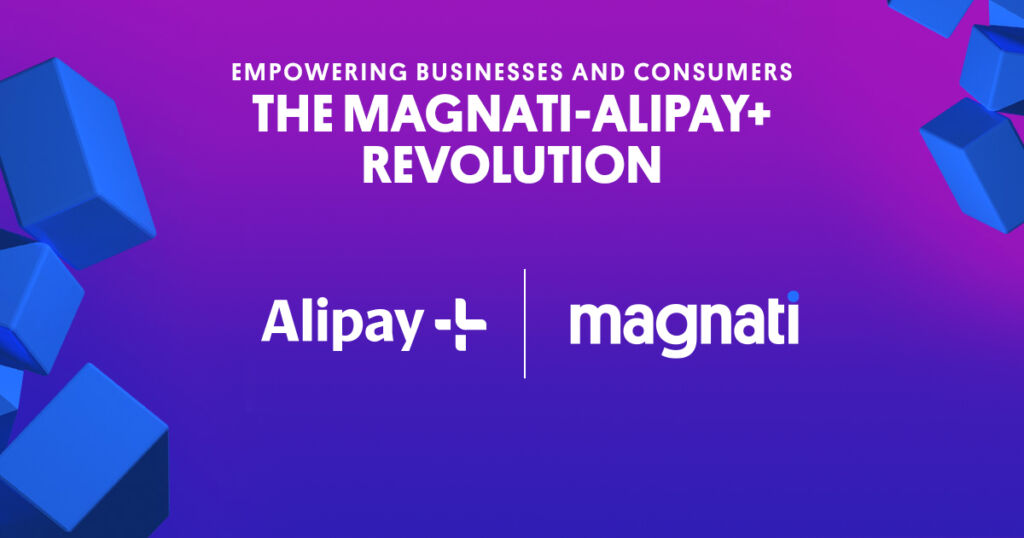 With a growing number of international visitors and residents to the UAE, this collaboration aims to enhance the digital payment experience for all stakeholders involved. Magnati is leveraging next-generation payment technology to offer a convenient and integrated checkout experience to over 1.4 billion digital payment users. This will be achieved through Magnati's payment acceptance channels, all accessible through a unified interface.
The initial phase of this collaboration will allow merchants to accept payments from eight Alipay+ partner e-wallets including Alipay, AlipayHK, MPay, Kakao Pay, GCash, TrueMoney, OCBC and Tinaba. This development will make it easier for consumers from mainland China, Hong Kong and Macao, South Korea, the Philippines, Thailand, Singapore, and Italy to pay for goods and services through Magnati merchants using their preferred e-wallets.
Magnati is expanding its services through this collaboration to benefit digital payment users, providing them access to point-of-sale terminals in its merchant coverage, with more e-wallets to be added. This initiative simplifies the shopping experience for consumers by eliminating the need to carry cash or manage unnecessary currency exchange when paying for products and services at Magnati-affiliated merchants. Additionally, consumers may enjoy exclusive discounts and promotions by merchants through Alipay+, enhancing their shopping experience.
The Integration of Alipay+ solutions can significantly boost sales for merchants, as a substantial number of Asian consumers prefer businesses that accept their preferred payment methods. Additionally, by eliminating the complexities of cash handling and currency exchange, merchants can reduce costs and improve business efficiency.
Introduced by Ant Group, Alipay+ provides a suite of cross-border digital payment, marketing and digitalization solutions that help connect global merchants to consumers. This enables consumers to enjoy a seamless payment and a broad choice of deals using their preferred payment methods while travelling abroad. Further, small, and medium-sized businesses can utilize Alipay+ digital tools to enhance efficiency and achieve omnichannel growth.
Ramana Kumar, Chief Executive Officer of Magnati said, "As a leading payments company in the MENA region, Magnati is thrilled to collaborate with Alipay+, to enable a unified and seamless payment ecosystem for both merchants and individuals. Magnati's core mission is to deliver convenient and secure payment solutions for all our customers and partners. We are committed to working with Alipay+ to unlock further value for businesses and grow their customer base."
Guoming Cheng, General Manager of Ant Group in Europe and Middle East added, "On a broader scale, the collaboration between Magnati and Alipay+ is expected to further accelerate the acceptance of digital payments in the MENA region. Together, we are looking forward to promoting digital inclusion, transforming retail landscape and boosting more growth opportunities for regional merchants and the economy."
About Magnati
Magnati is a regional leader in the payment solutions industry focused on direct acquiring, issuer processing and acquiring processing.
Magnati provides government, merchant, and institutional clients with an intelligent payments' platform, using next generation technology to deliver improved experiences and increased efficiency. The Magnati brand is charged with energy and potential and is set to transform payments into possibilities.
Headquartered in Abu Dhabi, Magnati's expertise and relationships provide a platform for Magnati to attract international partners, while setting a new standard for innovation and delivery in the payments industry.
Visit Magnati.com for more information.
About Ant Group
Ant Group aims to build the infrastructure and platforms to support the digital transformation of the service industry. Through continuous innovation, we strive to provide all consumers and small and micro businesses equal access to digital financial and other daily life services that are convenient, sustainable, and inclusive.
For more information, please visit our website at www.antgroup.com or follow us on Twitter @AntGroup.
Source: Magnati and Alipay+ collaborate to unlock benefits for wallet users and merchants (zawya.com)