Geidea enters the metaverse in collaboration with Magnati
Abu Dhabi, 19, December 2022: Geidea, a leading fintech company in the region, has partnered with Magnati – a leader in the payments solutions industry – to enable merchants to provide seamless customer experiences in Magnati MetaV – the first metaverse marketplace in the MENA region.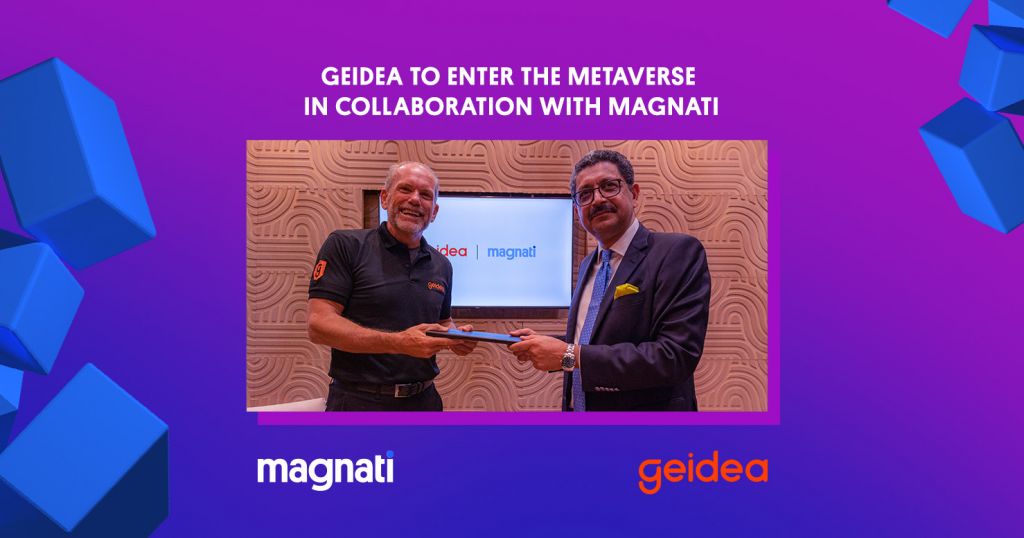 Magnati MetaV is a virtual platform where people can get a visual and sensory experience as they shop, learn, play games, attend events and more online – all from the comfort of their homes.
Geidea and Magnati aim to elevate the retail experience by providing merchants with tailored data and insights including visual representation of products and services, real-time customer experiences, opportunities for revenue generation for brick-and-mortar industries and experiential commerce seamlessly integrated to existing payment gateway.
Sailesh Malhotra, General Manager, GCC at Geidea said: "At Geidea, we remain committed to empowering merchants to grow and scale their businesses. Through this exciting partnership with Magnati, we are tapping into a rapidly expanding, brand-new world of e-commerce. We are providing merchants with a fully-immersive experience – a ground-breaking and digitally-enhanced offering to help elevate the overall retail experience in the Magnati MetaV universe."
Salim Awan, MD, Institutional Payments, Magnati, said: "Magnati is proud to collaborate with Geidea to offer merchants in the region a more immersive way to reach their customers. Through Magnati-MetaV, customers can clearly visualise, feel and know what they are paying for, and merchants can unlock opportunities for revenue generation."
Customers can view and interact with retail offerings in three dimensions using customizable avatars in an online environment. A variety of retail categories, including fashion, food, gaming, and technology, will be available for customers to browse, pick up, try on, and buy. Customizable avatars enable users to explore a discovery-driven online environment where merchants and consumers can see and feel retail offerings in multi-dimension.
The platform is fully integrated with traditional payment rails and gateways, so that shoppers can pay for products and services on Magnati MetaV through cards, wallets and other accepted payment methods, for a completely familiar payment experience.
Earlier this year, Geidea became the payment service provider for Magnati as part of the company's expansion in the UAE, hereby facilitating digital payments acceptance. Through this partnership, merchants are benefiting from Magnati's tailored payment solutions, allowing them to accept a wide range of digital payments through a secure, single, and seamless API integrated platform.
About Geidea
Geidea is a leading fintech and fully licensed payment service provider offering digital banking technology, smart payment terminals and business management solutions for both financial institutions and small businesses in retail and digital commerce. Founded in Saudi Arabia, the company is expanding rapidly across the region with operations in UAE and Egypt and is targeting seven more countries in the next two years, serving both financial institutions and small and medium businesses.
Founded in 2008 by Saudi entrepreneur Abdullah Faisal Al-Othman, the company believes that the latest payments and commerce technology should be accessible, affordable, and intuitive for everyone. The company continues to focus on its mission of empowering merchants with the tools to start, manage and grow their businesses which is at the heart of what Geidea does.
Geidea has become the first non-bank entity in the Kingdom to obtain an acquiring license from the Saudi Central Bank "SAMA" to provide financial services directly to merchants and small and medium enterprises.
Geidea now has more than 2000 employees across all offices, with over 150,000 merchants, and provides support to more than 700,000 terminals within the Kingdom with a 75% market share. The company is proud to say that it is the biggest fintech company in Saudi and is ranked one of the top 25 fintech companies in the Middle East by Forbes.
Media Contact: geidea@webershandwick.com
About Magnati
Magnati is a regional leader in the payment solutions industry focused on direct-to-merchant acquiring, issuer and acquiring processing.
Magnati provides government, merchant and institutional clients with an intelligent payments platform that monetizes data, using next-generation technology to deliver improved experiences and increased efficiency. The Magnati brand is charged with energy and potential and is already transforming payments into possibilities.
Headquartered in Abu Dhabi, Magnati's expertise and relationships provide a platform for Magnati to attract international partners while setting a new standard for innovation and delivery in the payments industry.
Visit www.magnati.com for more information.